Mark S. Jones, DMin, LPC-S, LMFT-S, BCN, QEEGD
Managing Partner, Sole Practitioner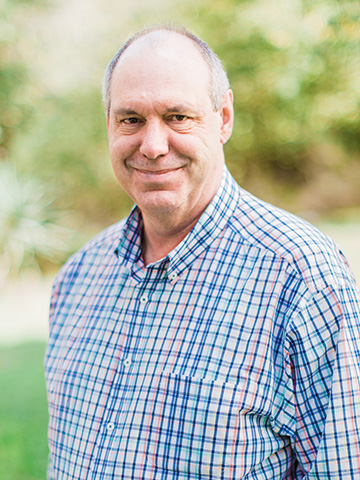 Dr. Jones  has a doctorate in pastoral care and is a licensed professional counselor, licensed marriage and family therapist, board approved LPC and LMFT supervisor, board certified in neurofeedback and QEEG (quantitative electroencephalogram), and a trained spiritual director. He is the author of several books and articles on psychological and spiritual approaches to life and therapy. He has extensive experience in hospital and clinic based treatment as well as years of experience in training clinicians in psychotherapy.
Bringing his years of training and experience to a wide variety of issues, Dr. Jones approaches his counseling with a gentle, inquisitive and supportive spirit.
Specializing in Neurofeedback
One of the premier providers and proponents of QEEG-guided neurofeedback in the San Antonio area, Dr. Jones provides neurofeedback and various modalities of biofeedback in his private practice, and directs the Neurofeedback Program at UTSA, where he mentors future practitioners and conducts research on treating anxiety and PTSD. For more information about neurofeedback, go to Dr. Jones' companion website at http://www.neurofeedbacksanantonio.com
Dr. Jones' vocational experience includes:
Research consultant: aerospace and psychological projects
Private practice in counseling and biofeedback
Adjunct Professor and Director of the Neurofeedback Program, UTSA Department of Counseling
Mental Health Consultant, Perkins Seminary, Southern Methodist University
Adjunct Full Professor, Webster University
Clinicial Director, Ecumenical Center for Religion and Health
Director, Employee Assistance Services, Baptist Health System
Director, Pastoral Care Department, North Central Baptist Hospital
Counseling Supervisor, Baptist Memorial Hospital System
Phone (210) 319-4569
In addition to counseling, neurofeedbacking and teaching, Dr. Jones is an avid amateur astronomer. Visit his astronomy website at http://www.astronomymark.com. And be sure to listen to his audio podcast for the International Year of Astronomy.
NOTE: Now that there are three Mark Joneses in San Antonio who do counseling, please note that I am not a psychiatric physician's assistant, nor am I affiliated with Cornerstone Church.